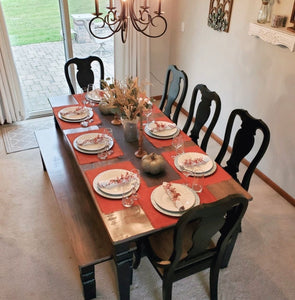 Our queen style chairs pair perfectly with our standard 30" high dining  tables. The seats of the chair are 18" high (floor to seat) making them the perfect fit for your table.
They can be all stained to match your table, painted black or white with only the seat stained. Or we can do something a little different feel free to share your ideas!
Width: 18.25"
Depth: 17.25"
Height: 38.25"
if you have any questions just ask!