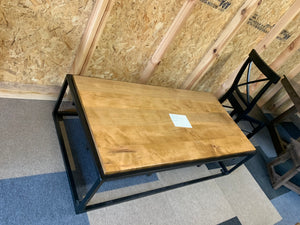 60"x30" Metal like coffee table with 2 inch wooden top.
This beauty is ready to go!
It has black metal legs and a golden oak stained top. 


We can also make  end tables to match as well!!
Custom order always welcome!
This is what we have and are ready to go section, That way you don't have to wait!!
If you would like to place a custom order we never take any type of deposit our customers pay cash check or card and pick up delivery or we sent invoices prior to shipping!
Any questions at all just ask!
724929688
woodenwhaleworkshop@gmail.com