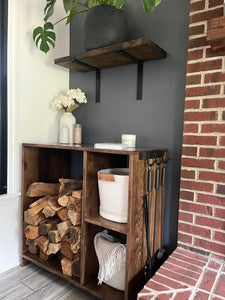 Custom made shelves.
Available in 1" thick as well as 2" thick
Solid wood shelves (hardware/brackets) sold separately, handcrafted and built in Freeport Pa
Click here for our standard stain color selection.
Send us an ema with your color choice, feel free to call or text as well. (724) 902-9688 Email woodenwhaleworkshop@gmail.com 

Non floating shelves are $20 per foot ( with a standard width of 8"-10" included in our pricing) other depths available, pricing may very depending on depth.

These amazing shelves can be done in any size and color. Price varies on size. 
Hand crafted and made of solid wood.
* sizing is NOT limited to size options on our website.
Contact us to customize the perfect piece!
Made with maple wood, other woods available upon request. Pricing may vary.
 Custom stains and paints also available. (we mix stains at our shop to get the perfect color)
You can also send us a paint or flooring sample to send to our stain/paint manufacturer who will create a custom stain or paint just for you! 
 Totally customizable 
 724-902-9688 feel free to call or text!
woodenwhaleworkshop@gmail.com